Mavalankar , Shri Ganesh Vasudeo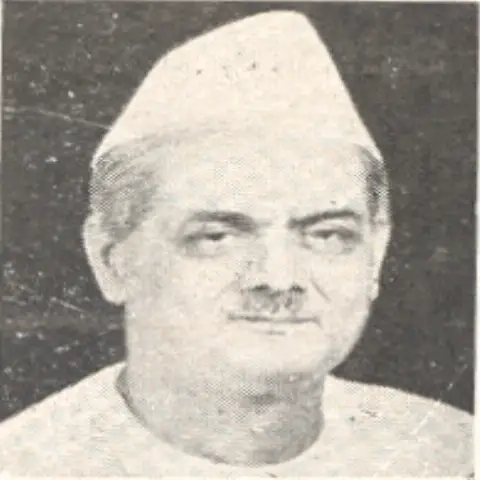 Party Name : Congress
Constituency : Ahmedabad-SC
State : Bombay
Member Experience : Elected to Loksabha 1 time
Last Loksabha Attended : 1

More Information :
MAVALANKAR, SHRI GANESH VASUDEO, B.A., LL.B., Cong. (Bombay—Ahmedabad—1952): B. November 27, 1888 at Baroda; ed. at Primary Schools (Marathi) at Mahad (District Colaba) and Deorukh (Taluk Sangameshwar, District Ratnagiri); English education at Private School, Rajapur (District Ratnagiri), 1901-02, Government High School, Ahmedabad, 1903-04, Gujarat College, Ahmedabad, 1905—09 and Government Law School College, Bombay, 1910—12; Advocate, Appellate side; Practised Law, 1913—37; Secretary, Gujarat Sabha from 1916; Took part in Kaira No-Rent Campaign, 1917-18; Influenza Relief, 1918; Famine Relief, 1919; Member, Ahmedabad Municipality, 1919 and onwards till 1937; Suspended practice in pursuance of N.C.O. resolution of the Nagpur Congress for two years; Secretary, Gujarat P.C.C., 1921—23; General Secretary, 36th Indian National Congress, Ahmedabad, 1921; Secretary, Flood Relief Operation, Ahmedabad District, 1927; President, Ahmedabad Municipality, 1930—33 and 1935-36; President, Ranpur Inquiry Committee, 1930; Imprisoned for participating in Congress movements, 1930—33, 1940-41 and 1942—44 and interned at Ratnagiri, 1933-34; Trustee, Harijan Ashram, Sabarmati (Gandhiji's Ashram); Chairman, Ashram Memorial Trust; Member, Gujarat Law Society; President, Ahmedabad Education Society, Charotar Education Society, etc.; President, Gujarat Vidya Sabha; Trustee and Chairman, Kasturba Gandhi National Memorial Trust; Trustee and Chairman, Gandhi Memorial Fund; Trustee and Chairman, Gujarat University Trust; Chairman, Maha Gujarat Khadi Mandal, etc.; Speaker, Bombay Legislative Assembly, 1937 to 1946; President, Central Legislative Assembly, January, 1946 to August, 1947; Speaker, Constituent Assembly (Legislative) from November, 1947 to April, 1952; Leader, Indian Delegation to the Commonwealth Parliamentary Conference, London, 1948 and Leader, Indian Delegation to Inter-Parliamentary Conference, Dublin in 1950; Attended on behalf of India the opening of the New House of Commons on October 26, 1950 and the Commonwealth Speakers' Conference in London; Speaker, House of the People, from 1952; Leader, Indian Delegation to the Commonwealth Parliamentary Conference, Ottawa, in September, 1952.
Travels: England, Canada, U.S.A. and Europe. Permanent address: "Sewakutir", 16, Maharashtra Society, Ellis Bridge, Ahmedabad.